Are you a pet owner looking for the perfect place to live in Thong Lor? Whether your animal friends are cats, dogs, or something more exotic, we've got you covered in this guide to pet-friendly accommodation in Thong Lor. Also, we'll be covering all the swishest amenities and best local hotspots where you and your four-legged friends can hang out together with fellow animal lovers and show you where to find the best local vets and grooming services.
Get to Know Thong Lor
Technically named Sukhumvit Soi 55, Thong Lor, sometimes transliterated from the Thai language as Thong Lo or Thonglor, is undoubtedly one of the trendiest areas of Bangkok. It's a long road leading northward from Sukhumvit to Phetchaburi Road; however, the Thong Lor area also encompasses all the smaller alleys that shoot off Sukhumvit Soi 55.
Tip for Dog Owners: It takes about 1 hour to walk the entire length of Thong Lor, and even longer if your dog has to stop to do its business along the way! Given Thailand's hot climate, it's wise to make sure you and your canine friend don't stay in the intense sunshine for too long, so why not stop off at one of the dog-friendly cafés or restaurants along the way to cool off and grab a snack/drink.
Translated from Thai, the name Thong Lor means 'molten gold', which is certainly an appropriate name, as, over the years, Thong Lor has gained a reputation as the 'Hi-So' (posh) neighbourhood of Bangkok. Just by mentioning to someone in Thailand that you either live in or plan to socialise in Thong Lor will earn you an immediate status symbol.
Home to some of the Thai capital's best luxury hotels, apartments, and condos, and some of Asia's best gourmet restaurants, delicious street food, stylish cafés, fashionable boutique shops, swanky bars, glamorous nightclubs, and vibrant lifestyle malls, Thong Lor definitely has it all. Whether you're into great food, people watching, art, or just partying hard, Thong Lor has something to offer, either from its main artery Sukhumvit Soi 55 or down one of its many alleys, which are home to many fabulous hidden gems. With some of the most refined living spaces in the city and an abundance of fantastic pet-friendly amenities at your doorstep, why wouldn't you want to live here?
One issue for pet owners in Bangkok is finding accommodation that will, *ahem*, accommodate your pets, and before you put a deposit down on any condo or apartment, it's essential to do your research and find out from the landlord or building owner if pets are permitted.
To save you the hassle of finding pet-friendly buildings in Thong Lor, we suggest checking out our highly recommended lodgings that include a couple of options to suit different pet owners' needs.
Dog-Friendly Accommodation in Thonglor
Staybridge Suites Bangkok Thonglor
Our first suggestion is the luxurious Staybridge Suites Bangkok Thonglor, which offers pet owners the perfect way to work, relax, and play in Thong Lor. With a selection of extraordinary suites offering spacious rooms with bathtubs and a balcony, the rooms at the Staybridge Suites come equipped with premium bedding, a fully-equipped kitchenette, refrigerator, cooking hob, laundry machine, and dryer. Its public spaces feature a sky pool with a jacuzzi, Japanese onsen facilities, plus a sauna and gym. What's more, they even offer a complimentary hot breakfast, free Wi-Fi, and 'The Social', an evening gathering event hosted by the hotel, making it a great place to meet new friends and other pet owners.
If you and your pet wish to live at the Staybridge Suites Bangkok Thonglor, the fee is an additional 500 THB per night on top of your room rate. There's also a pet deposit per stay of 3000 THB, which is required upon check-in and returned to you when you check out so long as no damage has been caused to the room. However, there are some limitations as the Staybridge does limit its guests to only one pet per room, with a maximum weight of 10 kg.
The Monument Thong Lo
If you're thinking about staying in Thong Lor long-term, a hotel suite might not be the right option, and a condo might be more up your street. If that's the case, we fully endorse The Monument Thong Lo, a prestigious, pet-friendly condo development by the highly coveted developer; Sansiri.
Completed in 2019, this modern building is equipped with 127 units spread across 45 stories. With choices of 2 bed/3 bath, 3 bed/4 bath, or penthouse units, this building caters to large families and their pets with ease. Living at The Monument Thong Lo, you'll have room to enjoy life to the fullest in a rare development that is big on space.
From spacious residential unit sizes unlike any other being built to majestic trees that have stood in the grounds for over a century, the larger-than-life proportions of this development magnify the luxury of living in this sought-after area of Bangkok.
As for the rules regarding pets, things here are a little vaguer, and the information given by Sansiri is that "small" pets are allowed. Take that as you will, but as always in Thailand, you can generally use this kind of ambiguity in your favour.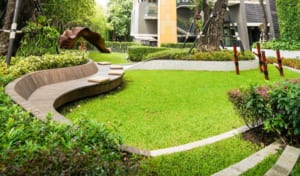 S59 Executive Apartment
Located within a 10-minute walk to Thonglor BTS Station, the S59 Executive Apartment stands 15 stories tall with a modest 16-unit design. Completed in 2011, this stylish building offers residents plenty of privacy with its generous 240 SQM 3 bedroom units, combined with a communal feel making it very appealing to families with pets. According to the building's guidelines, residents may keep pets weighing under 10kg.
Secured 24-hours a day with keycard access, the building also boasts some excellent facilities like a sizeable swimming pool complete with sun loungers, a fitness centre, and a sauna. One of the best highlights of the S59 Executive Apartment is the Mandarin Spa on the ground floor, where residents can indulge themselves with a full range of massages and spa treatments provided by professionally trained and certified therapists using premium quality products from around the world.
The Best Pet-Friendly Spots in Thong Lor
Suppose we haven't already sold you on the area. In that case, you might be interested to know that Thong Lor is also home to independent designer houses, artisanal bakeries, fashion-forward hair salons, custom motorcycle salons, premium supermarkets, speciality children's boutiques, and upscale home décor stores. But what use are any of these places if you can't take your animal friends along with you? Check out some of our recommendations below for some of the best places you can hang out with your pet.
J Avenue
For pet owners in Thong Lor looking for the perfect escape from the busy Bangkok streets' hustle and bustle, we recommend heading over to J Avenue. This chic, airy, dog-friendly community mall has a fantastic mix of shops and services, plus dining options with outdoor seating such as the scrumptious bakery Au Bon Pain, a great place to chill with your dog while soaking up the atmosphere.
Greyhound Café
One of the most excellent spots for dog owners at J Avenue is the Greyhound Café. Not only does this minimalist eatery serve up some of the best bites in town, they even cater to your furry friends too with their Hungry Hound Menu! They can indulge in special treats from Greyhound, like sliced tenderloin beef, along with healthy options like boiled diced carrots. Greyhound also has your pooch covered when it comes to staying hydrated on a boiling hot day with the Dogtail Sit & Stay; a refreshing watermelon and orange juice made especially for dogs.
Love Dog
A great bonus for pet owners from J Avenue is the Love Dog pet shop situated on the ground floor, which carries a variety of pet food from leading brands, and has all the pet accessories you could ever need. Furthermore, Love Dog also offers grooming products and services and provides facilities to take care of your pet when you need to travel.
theCOMMONS Thonglor
With its ultra-modern architecture, you may be forgiven for thinking that theCOMMONS is some type of art gallery, but actually, this pet-friendly lifestyle mall is a gathering ground for quality producers who take pride in what they do and do it with utmost care. The designers of theCOMMONS state that their intention when planning the building was "to build first a community, then a mall." Here, you can meet other like-minded individuals, and you and your pet can build wholesome, meaningful relationships and bonds.
theCOMMONS also regularly holds events and workshops, so be sure to check out their website for the most up-to-date information.
Dog Park 49
The Dog Park 49 is a great spot for your dogs to meet their friends and burn off some energy by running a few laps around the park, taking a walk on a treadmill, or jumping through some hoops. There are also some excellent facilities here, including a doggy pool for your pups to take a dip and grooming services where Fido get a new hairdo. Dogs can even spend the night here when their owners are out of town.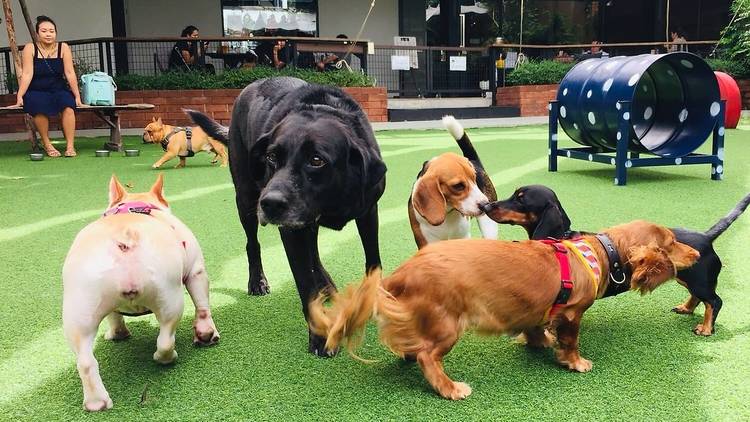 Pet Lovers Center – Thonglor
Pet Lovers Center is very similar to Love Dog, which we mentioned above but on a much larger scale. As an international chain of pet shops, Pet Lovers Center is a very well-established franchise with highly knowledgeable staff who know how to take care of many species of animals with the proper skills and techniques.
This one-stop-shop for all your pet's needs has some of the most premium grade pet products on the market. It also offers outstanding grooming services to meet the highest international standards with a strong focus on cleanliness, so you can ensure that your pet leaves the salon looking and feeling fresh!
The Thong Lor branch is a standalone outlet that caters to almost any pet imaginable, so for pet owners with exotic birds, fish, or reptiles, Pet Lovers Center is the answer to all your food, habitat, and toy needs.
Vets in Thong Lor
Charoensuk Animal Hospital
Lastly, we wouldn't be responsible pet guidance agents if we didn't consider the fact that your pet may get sick from time to time or need an emergency operation. In those cases, we would advocate the Charoensuk Animal Hospital as one of the best places to take your pets when they require medical assistance.
The kind and well-trained veterinarians at Charoensuk Animal Hospital will treat your pets like the valued family members they are.
Phone: 02-391-9707
Facebook: Charoensuk Animal Hospital
Address: Ekkamai Soi 5 (Thong Lor Soi 10), Khlong Tan Nuea, Wattana, Bangkok, 10110